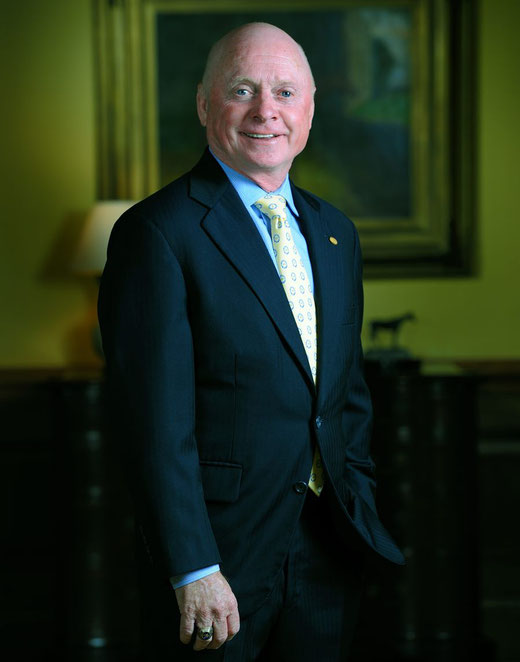 Born on March 27,1955, in the Dorchester area of Boston, Chris followed his brother Gregg in becoming a jockey. His early tutelage was under Odie Clelland, who decades earlier had provided similar training to Eddie Arcaro. Chris started as a hotwalker in the summer of 1971 and after graduation from high school got his schooling as a rider at Rockingham Park  in Salem, NH  and then at Laurel and Bowie Race Courses in Maryland.
 Chris's first race was on January 24,1974, and he won on his 10th mount, Erezev, in early February. He remained on the Maryland circuit for four years, during which he won the Eclipse Award for apprentice jockey in 1974 and led all jockeys in number of wins in both 1974 and 1975. His 546 wins in 1974 set a record for a single year which stood for 15 years.
 Chris moved to the tough Southern California circuit and quickly proved successful even in a jockey colony with such stars as Bill Shoemaker and Laffit Pincay. He eventually won 25 Southern California meeting titles for most wins. In 1980, he led the nation in wins for a third time, and he led all jockeys in money won in 1980, 1981, 1984, and 1991. In addition to his successes in California, Chris compiled a symmetrical record in the Triple Crown, winning the Kentucky Derby, Preakness, and Belmont Stakes twice each, with Alysheba, Go for Gin, Pine Bluff, Danzig Connection, and Touch Gold.
 Alysheba, Horse of the Year in 1988, was one of 28 champions Chris rode to major victories, and the others included additional Horse of the Year honorees Lady's Secret, Sunday Silence, Tiznow, Criminal Type, and the beloved John Henry. Chris's record in the Breeders' Cup was similarly spectacular, as he won nine of the climactic events. Five of his Breeders' Cup wins came in the Classic, on Alysheba, Sunday Silence, Alphabet Soup, and Tiznow (twice).
 Chris was the first jockey to amass $200 million in purse earnings, and when he retired in 2002 he was still the all-time leader with $263,985,905. He won 7,141 races from 34,240 mounts, for a robust 20.8%. The victories included more than a thousand stakes, of which approximately half were graded.
 The many honors Chris received included election to the Hall of Fame in 1989, another Eclipse Award for jockeys, George Woolf and Mike Venezia Memorial Awards, an ESPY, two City of Hope Victor Awards, and five Seagram Seven Crowns of Sports Awards. He was the first full time professional rider to be elected to The Jockey Club, and he is a member of its Thoroughbred Safety Committee. He was co-founder with Tim Conway and Judy McCarron of the Don MacBeth Memorial Jockey Fund.
 Chris's outgoing and articulate style are suited for on-camera commentary, and he has done racing coverage for ABC, NBC, ESPN, and TVG. He also was race designer for the movie Seabiscuit, in which he portrayed Charlie Kurtsinger, rider of War Admiral. Upon retirement, he had been tapped by Frank Stronach to extend his reach into track management, and Chris had stints as general manager of Santa Anita and as vice president of Industry Relationships for Stronach's vast racing and entertainment enterprise.
 However, Chris had a personal goal, to develop a jockey school, and he was not only the inspiration but the architect of the North American   Riding Academy. The Academy immediately became affiliated with Bluegrass Community Technical College, and the curriculum offers a pathway to various other horsemanship jobs in the industry, in addition to race riding. McCarron has retired as head of NARA, having sent out two dozen graduates to win more than 3,400 races and nearly $60 million in purses through mid-2016.
 In honor of his lengthy career demonstrating the highest levels of talent in competition, his integrity, concern for the horse, and dedication to the best interests of the sport of Thoroughbred racing, the Thoroughbred Club of America, assembled at Keeneland Race Course on this 25th day of September in the year 2016, hereby presents this testimonial scroll to Chris McCarron and welcomes him as an honorary lifetime member.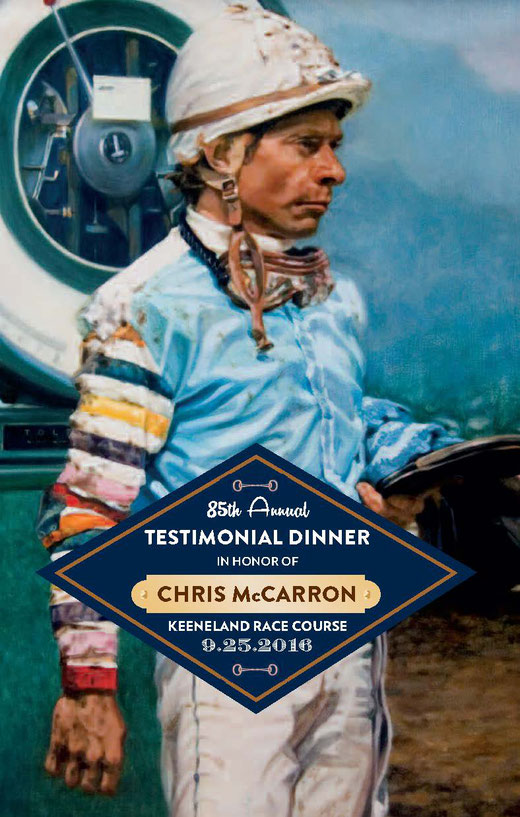 2016 Honor Guest Dinner Program
Click here to view the evening's program.
2016 Honor Guest Program-Chris McCarron.
Adobe Acrobat Document
1.7 MB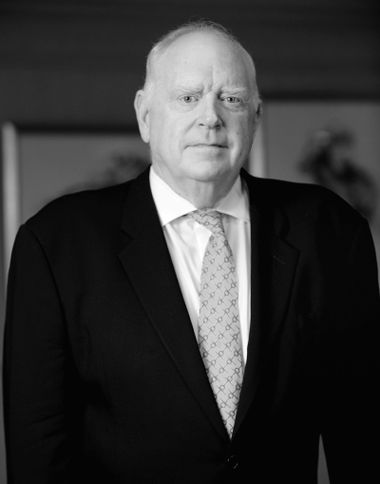 Tom Durkin has been selected by the Board of Directors of the Thoroughbred Club of America as the 2015 Honored Guest, Club President Shannon Arvin announced today. Durkin will be honored by the Club at its 84th Testimonial Dinner at Keeneland Race Course on Tuesday evening, September 29th. 
"Every racing fan knows Tom's iconic voice and historic calls," said Arvin. "His contagious excitement for the game and his character have greatly enhanced the racing experience for forty-three years, and we look forward to honoring his career and contributions."
A native of Chicago, Durkin studied drama at St. Norbert College in De Pere, Wisconsin. In 1971, he was hired as a race caller at Quarter Horse and Thoroughbred races at county fairs in Wisconsin, which he did each summer through 1975. The following year he was employed by the Daily Racing Form as a call taker responsible for documenting the comments and statistics used in the official charts of the races at Cahokia Downs and Thistledown Racecourse. Later, Durkin went on to work as a race caller at Florida Downs, Miles Park, Quad City, Balmoral Park, Hialeah Park, Meadowlands, and Gulfstream Park. In 1990 Durkin was hired to call races at the New York Racing Association's Aqueduct Racetrack, Belmont Park, and Saratoga Race Course. Durkin has called races at more than 50 tracks in six countries.
Tom Durkin is one of horse racing's most identifiable voices. He served as the chief TV voice for the Breeders' Cup, from its inception through 2005. He was a longtime broadcaster on NBC as part of the network's sportscasting crew for horse races, providing analysis, commentary and features in addition to the descriptions of races. His work at NBC included coverage of the Triple Crown for a number of years. 
Durkin retired in 2014 and, in recognition of his career-long dedication, he was awarded the Eclipse Award of Merit in January 2015. At the Eclipse Awards, he recalled the names of horses that made up his most memorable calls, names such as Tiznow, Cigar, Personal Ensign, Winning Colors, Lady's Secret, Rachel Alexandra, Curlin, Rags To Riches, Fourstardave, Wise Dan, Easy Goer, Sunday Silence, Real Quiet, Victory Gallop and Alysheba. (Click horse names to relive Tom Durkin's famous calls). 
Despite his retirement from race calling, Durkin has continued to serve the industry, as master of ceremonies of various events, including the Hall of Fame inductions, the OwnerView Thoroughbred Owners' Conference, and the Pan American Racing Conference.
For over 84 years, The Thoroughbred Club of America Annual Testimonial Dinner has honored persons who have rendered distinguished service to the sport of Thoroughbred racing.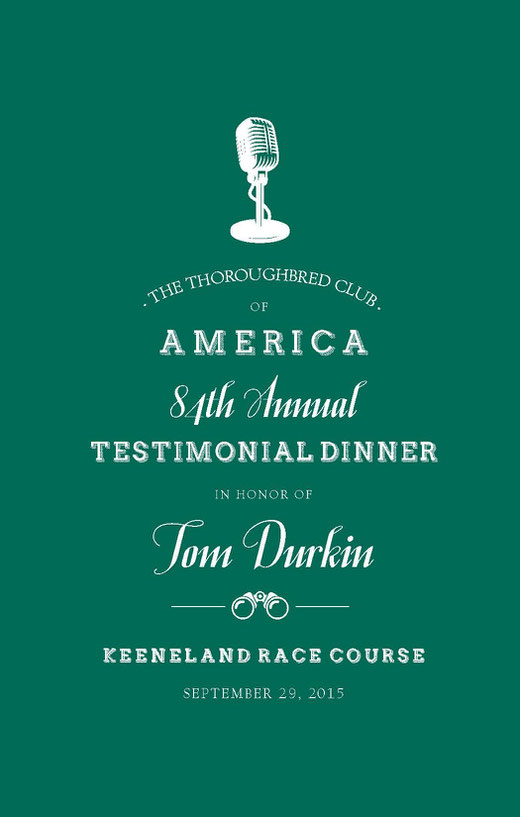 2015 Honor Guest Dinner Program
Click here to view the evening's program.
2015 Honor Guest Dinner Program.pdf
Adobe Acrobat Document
1.8 MB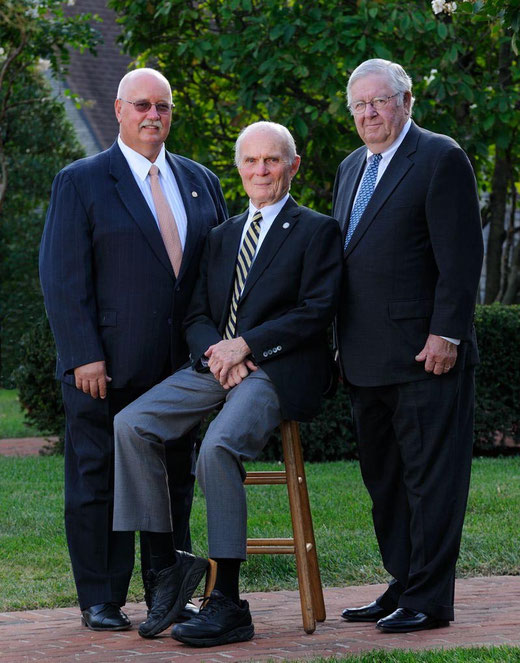 Three veterinarians, Dr. Larry R. Bramlage, Dr. Edward H. Fallon and Dr. A. Gary Lavin have been selected by the Board of Directors of the Thoroughbred Club of America as Honored Guests, Club President Happy Broadbent announced today. All three will be honored by the Club at its 83rd Testimonial Dinner at Keeneland Race Course on Sunday evening, September 28th.
"These distinguished honorees are legends in equine veterinary medicine," said Broadbent. "Through their respective accomplishments as a surgeon, reproductive specialist, and racetrack veterinarian, these three pioneers have all improved the welfare of the Thoroughbred. Particularly in a year when the world has focused on how Thoroughbreds are treated, we look forward to honoring these three remarkable men and telling the story of the best in veterinary care."
Dr. Larry Bramlage has distinguished himself as a teacher, researcher, and leader within his profession but is best known as an orthopedic surgeon. He is the most highly sought veterinarian for countless owners and trainers whenever orthopedic problems need diagnosis or surgery.
Among his best known cases was repairing Personal Ensign's fracture which had appeared to be career-ending. After surgery, Personal Ensign returned to continue her unbeaten career, culminating in a dramatic victory in the Breeders' Cup Distaff.
A native of Kansas, Dr. Bramlage graduated from Kansas State University and taught at The Ohio State University before moving to Lexington in 1989 to join Rood & Riddle Equine Hospital, where he became a partner in 1992.
Dr. Fallon represents the fourth generation of a family of veterinarians whose connection to Kentucky dates from 1875, when a Scottish-educated veterinarian named Edward Thomas Hagyard was called to Kentucky to consult on a valuable Shorthorn bull. An equine practice grew from that visit.
Third-generation Charles Edward Hagyard was joined in the practice in 1940 by Arthur Davidson and William McGee, which completed the team that for decades was known as Hagyard-Davidson-McGee (now Hagyard Equine Medical Institute).
Dr. Ed Fallon is the son of Dr. Charles Hagyard's sister. He graduated from Cornell's College of Veterinary Medicine in 1956, and his son Luke Hagyard Fallon, a fifth generation equine veterinarian, graduated from Cornell in 1996.
In taking his turn of stewardship of the revered old firm, Dr. Ed Fallon was instrumental in bringing about an era of increased efficiency in broodmare management. He utilized and promoted such scientific developments as ovarian palpation to determine pregnancy in mares and use of artificial lighting to stimulate estrous cycles.
Dr. Lavin is the son of well-known racing secretary Allan Lavin and grew up in the sport. He graduated from the University of Pennsylvania's veterinary college in 1962 and for many years was a practitioner and surgeon on the race track. The many honors he received reflect the quality of care he gave to clients and their horses. They include his alma mater's Bellwether Medal for Distinguished Leadership, status as a Distinguished Life Member of the American Association of Equine Practitioners (AAEP) and designation as a Distinguished Practitioner of the Kentucky Association of Equine Practitioners.
Further indication of the respect he has earned within his profession was the AAEP's establishment of the Lavin Cup for Equine Welfare in 1996.
Dr. Lavin has given his time and leadership to many roles, having been president of the AAEP and the Kentucky Thoroughbred Association, as well as steward of The Jockey Club, trustee of the Thoroughbred Owners and Breeders Association, The Breeders' Cup, and presently as director of Keeneland and as vice chairman of the Grayson-Jockey Club Research Foundation.
Lavin and his family operate Longfield Farm in Goshen, Ky. Lavin's wife, Betsy, serves on the Kentucky Racing Commission, and their sons are involved in bloodstock agency and equine insurance.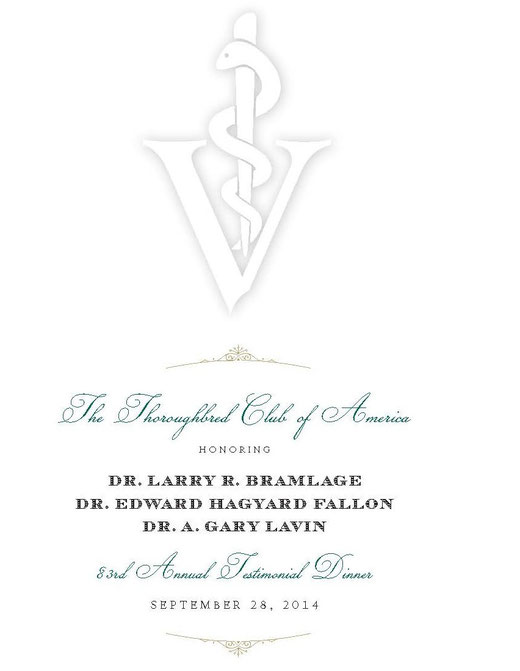 2014-Honor Guest Dinner Program
Click here to view the evening's program.
2014 Honor Guest Dinner Program.pdf
Adobe Acrobat Document
5.5 MB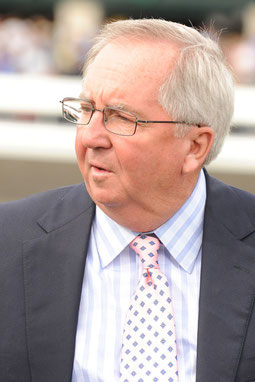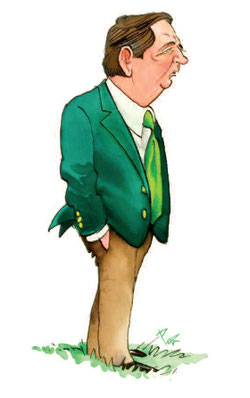 2013 Honor Guest Dinner Program
Click here to download the night's program.
TCA Dinner Booklet 2013 Final.pdf
Adobe Acrobat Document
3.8 MB
Hall of Fame trainer Claude R. " Shug" McGaughey III has been selected as the Thoroughbred Club of America Honored Guest. He will be honored by the Club at its 82nd Testimonial Dinner at Keeneland Race Course on Sunday evening, September 29th. 
"The Testimonial Dinner was established in 1932 and the distinguished individuals honored by the Thoroughbred Club of America include a number of training legends such as Sunny Jim Fitzsimmons, Horatio Luro, Woody Stephens, Charlie Whittingham, Mack Miller and D. Wayne Lukas.   Shug McGaughey is one of the greatest trainers of our time, and he deserves to join the distinguished group of horsemen selected for this honor," Broadbent said.
Born in Lexington, Kentucky,  McGaughey started training at Keeneland in 1979.  After working  for some notable stables, McGaughey was named trainer for the Phipps Stable in New York in 1985. Just three years later, he won the Eclipse Award as Outstanding Trainer of 1988, and in 2004 was inducted into the National Museum of Racing's Hall of Fame. 
McGaughey has conditioned four Hall of Fame horses -- Personal Ensign, Easy Goer, Inside Information and the newly-inducted Lure. His other champions include Heavenly Prize, Queena, Rhythm, Smuggler, Storm Flag Flying and Vanlandingham. 
In total, McGaughey has won nine Breeders' Cup races, tied for second on the all-time list behind D. Wayne Lukas. Highlighting his Breeders' Cup resume is one of the most thrilling finishes in history: Personal Ensign's dramatic rally to nip Lukas' filly Winning Colors by a nose in the 1988 Distaff at Churchill Downs, to retire undefeated in 13 starts. In 2013, McGaughey earned his first Kentucky Derby win with Stuart Janney III and Phipps Stable's homebred Orb. McGaughey had previously finished second in the 1989 Kentucky Derby with Easy Goer, who went on to give him his first Triple Crown race victory in that year's Belmont Stakes.To date, McGaughey ranks as the 10th all-time leading trainer with nearly $120 million in earnings, and after more than 8,000 starts, he is approaching the 1,800-win milestone.                                                                              
On September 30, 2012, The Thoroughbred Club recognized Ms. Penny Chenery as the recepient of the 2012 Honor Guest.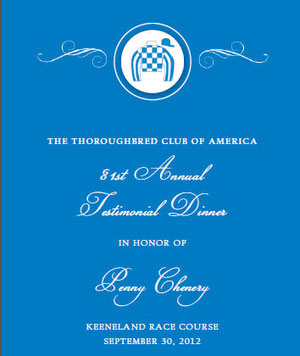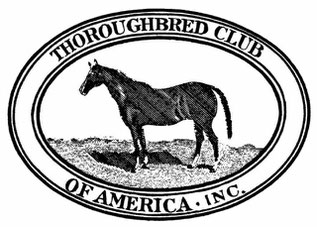 The Thoroughbred Club of America
|3555 Rice Road|Lexington Kentucky 40510 |859-254-4282|